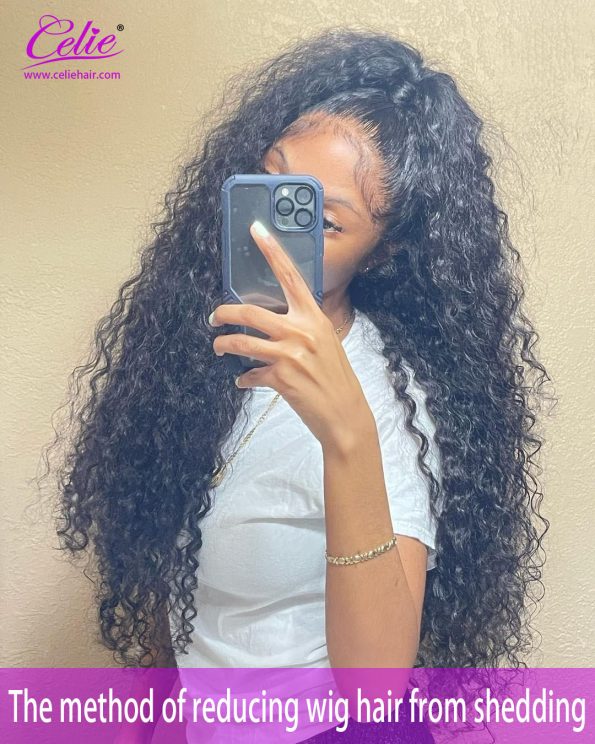 If you often wear human hair wigs, you will experience hair loss once or twice at least. No one likes to see loose hair after comb the hair, and they don't like the hair slide it all over the bathroom floor after it's set. In this article, we will mainly discuss the cause that lead to the wig hair loss, as well as the techniques to reduce hair loss.
How to minimize wig hair shedding?
Stop scratching your head if you can.
Don't try to scratching your scalp with a lace wig on your head. This may loosen the knot and cause excessive shedding. In the contrary, tap or pat your head with your hand.
"Pat your head" should satisfy a little itching. If itching persists, it may be that the scalp is dry or needs treatment. You can solve the problem of dry scalp by washing natural hair with anti-itch shampoo and deep moisturizer.
Seal your knots.
Using sealant before installing hair is essential to prevent it from falling out. "Sealing" is the process of locking the hair at the weft with a sealant (usually liquid adhesive or glue). Sealing the knot on the lace wig will make it safer and prolong the life of the wig.
How to seal the knot?
Just turn the lace wig over and apply sealant on the mesh or lace. Let it fully dry before you wearing. If spray sealant is used, it is recommended to reseal the knot after each cleaning.
Thoroughly remove adhesives and residues.
Before cleaning the lace wig, thoroughly remove all residual glue from the wig to prevent excessive shedding. Let the solvent work for two to three minutes to loosen the adhesive. Avoid using too much solvent to remove residues. Allowing sticky residue to accumulate will eventually lead to bald area of the wig.
Try to adjust your night routine.
The tension and friction generated when the hair rubs on the pillow is another way to cause the hair to fall off and tangle. You'd better take off your wig before going to bed. Nevertheless, if you have to sleep while wearing a wig, then before retiring at night, gently cut your hair, braid it (or twist it) and wrap it in a silk scarf. It is strongly recommended that you use a silk scarf, but you can also use a satin pillowcase.
The products used for wigs should be selective.
Use the correct hair care product for your human hair lace wig. Avoid hair care products with high alcohol content. These products include sprays, certain shampoos and hairspray. These products may cause damage, breakage and shedding. Choose products specially formulated for wigs, or products with extremely low alcohol content.
If you are not sure when reading the label, please consult your stylist or local pharmacy associate.
To ensure that your human hair lace wig looks good every day, moisturize your hair thoroughly on a regular basis. Fully moisturized hair will reduce tangles and curls.
Do not apply a mask, conditioner, cream or oil to the bottom of the hair system, as this may prematurely loosen the knot.
Recommended products