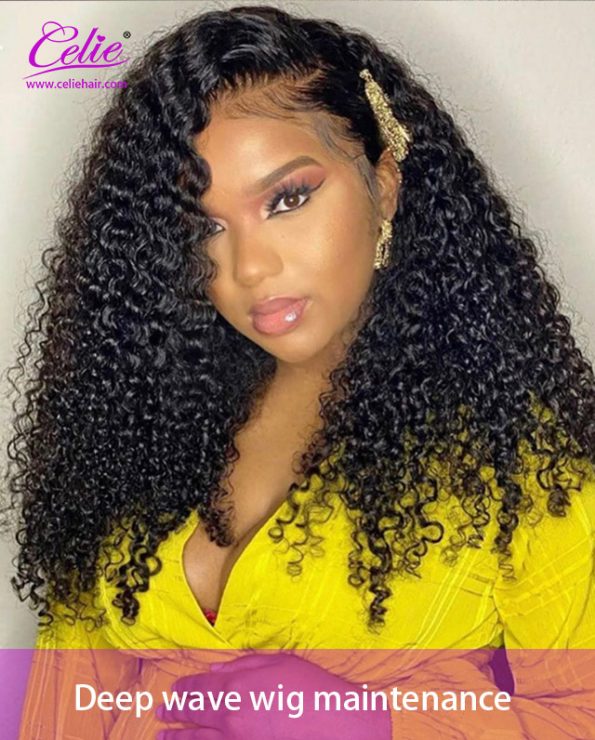 A deep wave wig may endure for years if properly cared for. To get the most out of your wig, you'll need to understand how to properly care for it.
The first step is to learn how to comb it without damaging it. After washing your hair, comb it through carefully with a wide tooth comb. Hot tools should be avoided while styling your hair since they can burn and damage it.
Brushing the hair.
You must be extremely careful when brushing the deep wave weave hair. If not, the curls will be simple to release. We advise using a wide-tooth brush since a normal brush or even a paddle brush might cause the coils to unwind as you brush. Therefore, in this case, the wide-tooth brush is the best option. Remember to begin brushing at the tips of the hair and gradually work your way up to the roots while brushing any type of hair.
Deep wave wigs cleaning.
The most important aspect of treating weave hair is washing. Remember to use your fingers to comb your deep wave weave hair smoothly before washing it to ensure that all strands flow freely as much as possible. Then, rinse your hair with cool water. Correctly shampooing your deep wave hair might be one of the most important variables in how long your waves last. This procedure starts even before you get into the shower.
To avoid knots, you can use a finger to comb through your hair. This will enable you to receive a thorough wash without ripping. You may also use a pre-conditioning treatment before washing to cut drying time.
Apply a sufficient quantity of hair conditioner to your hair and spread it in a downward motion with your fingertips. Allow the hair conditioner to sit in your hair for at least ten minutes.
Deep wave hair wigs rinsing.
Your hair has to be washed often to remove extra oils, grime, and product buildup. Nevertheless, if you don't initially rinse your hair properly, you're not really doing anything. You should flow water through your deep waves in a downward manner to rinse them. To aid in the removal of whatever conditioner you've applied, use your fingertips. 
Keeping your deep wave wigs in place while sleeping.
Cotton pillows and sheets can destroy the natural shine of your waves. Wearing a silk scarf or using a silk pillow to cover your hair all over will help avoid this. Take it a step further by wearing your silk wrap on your hair while exercising or working outside. You'll be shocked at how much of a difference it makes!
Remember to maintain your wigs tight when they loosen.
Your curls will inevitably get a little looser with time. Since they are made of virgin human hair, you may use either a set of plastic curlers or a curling iron set to medium heat. It is typical for hairpieces to require maintenance, so be aware of this in advance.
However, straightening or brushing the hair is not suggested since it often leads in a curled appearance. Similarly, you should be aware of how sleeping will affect deep wave hair.
Deep wave wig maintenance is really vital and required. We think that after reading these crucial recommendations for extending the life of your weave, you will be more motivated to keep your old deep wave weave hair healthy and looking like new. All of these will assure your outstanding appearance by extending the life of your wigs.
Recommended products: hd lace wigs, glueless wigs, Deep Wave wig, short lace front wigs, bob wig