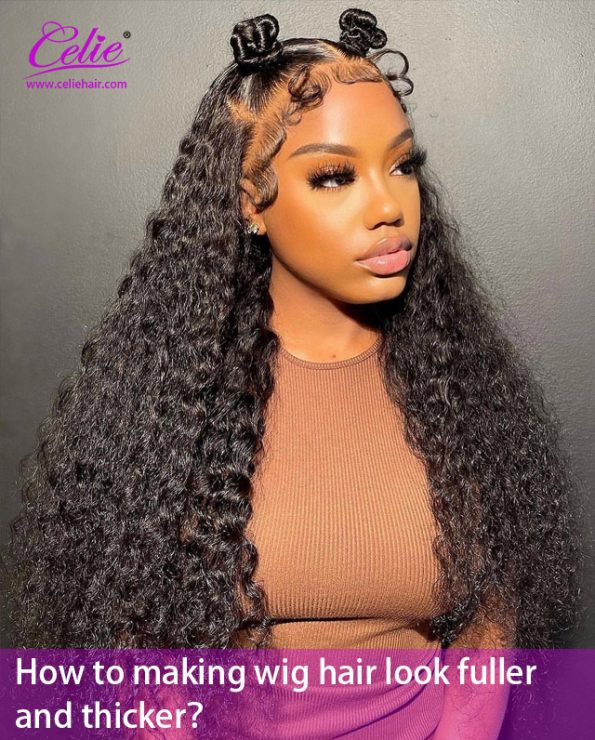 Consider using hair extensions with your human hair wigs. 
There are several sorts of hair extension products on the present hair market. The amount of hair extension required is determined on the length of the hair. Long hair requires a considerable quantity of volumizer, whilst shorter hair necessitates less. 
Alternatively, experiment with layers. Sections of hair that are layered produce a texturized effect that makes your hair appear fuller. 
Roll them up. 
To add volume to your hair, tie the front portion with Velcro and clip it up in rollers for around 30 minutes to maintain a high load.
Stop combing your wig hair excessively.
Your fancy human hair wigs should never be overbrushed. The hairs from your regular or sew-in wig will prone to break if you brush them too frequently. To comb your hair, always use a wide-toothed brush. When doing your hair, try to stay away from heated equipment. 
Create a few little divisions in your hair. 
The simplest approach to add volume to your roots is to tease little pieces of your hair. There are only a few easy stages in the procedure: Before backcombing your hair in the direction of your head, hold a tiny part of it away from your head. Next, spritz each part at the roots with hairspray to ensure that none of it comes off. Repeat the procedure of splitting into small portions to get the desired height and form. If you are unable to follow the techniques above to make hair appear thicker and fuller, another option we advise is to use clip-in hair extensions. 
Continue alter the position you sew-in wigs.
Change the hairs on your parted wig on a regular basis to aid with root lift. If you are presently utilizing the centre section, consider switching to the side section. After years of dividing your hair on one side, this parting will assist to increase the volume of your hair. Because the hairs establish a propensity of falling in the same way every day, this kind of change provides a boost. It is a straightforward technique. Simply turn your wig hair in the opposite direction and spritz hairspray before flipping them backward. 
Put on a head topper. 
Regardless of hair length, whether shoulder length or long, it always improves women's confidence. Another approach to achieve thicker hair is to use a lace topper / a women topper. The 4 piece and 3 piece hair toppers come in a variety of designs, including wavy and straight hairstyles. It is essentially a monofilament of lady topper base that looks like natural hair. The main consideration now is how to select an appropriate wavy hair topper or wig topper with bangs and crown topper hairpiece. 
Your ponytail should be split. 
Splitting your ponytail is one of the simple methods for getting voluminous hair. You may instantly create the appearance of thicker hair by just changing your haircut. Simply separate your hair is all that is required. Half of your upper hair should be pulled back into a ponytail, leaving the remaining hair loose. Just give it a shot, and we're confident you'll see progress. 
Blow-dry your human hair wigs at all times. 
Always blow-dry your hair upside down and continue tasseling it while drying. Turn off the ionic blow dry option, which tends to make your hair smooth but definitely reduces the volume of your hair.
Recommended products: hd lace wigs, glueless wigs, Deep Wave wig, short lace front wigs, bob wig