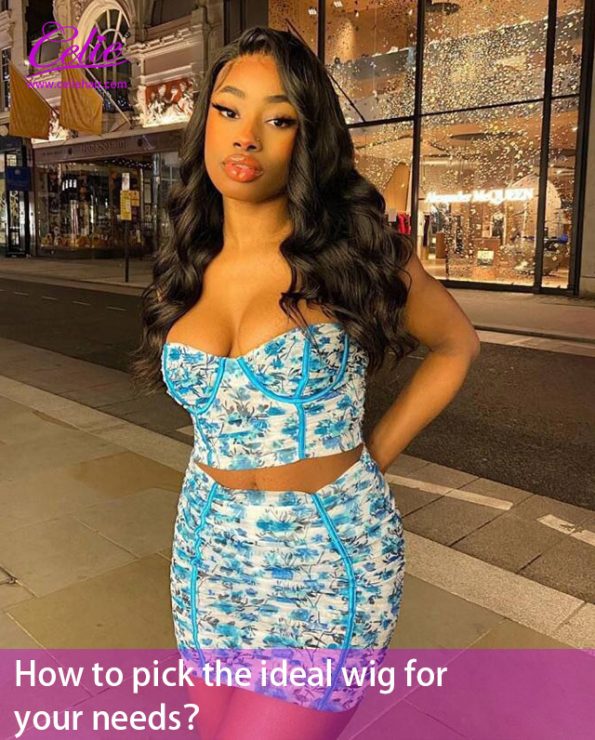 Wigs come in a wide variety now to match every person's style and preferences. You may find whatever wig you desire, whether you want a curly wig, wavy wig or a straight wig, or whether you want short but not long wigs. Additionally, there are a variety of colored wigs available.
It could be challenging to know where to begin when shopping for a new wig. Today's wig industry offers a huge variety of wig designs and kinds. How do you pick the ideal wig for you? This blog article will go over many things to think about while selecting a wig.
Observe the form of your face.
The first thing you should take into consideration while shopping for a wig is the form of your face. There are many different sorts of faces, including those that are rectangular, square, round, oval, and heart-shaped. Measure the length of your face, cheekbones, forehead and to determine the form of your face. Knowing your face's form can help you pick the ideal wig to accentuate your characteristics.
Pick the appropriate material.
There are several different materials used to make wigs. Human hair or synthetic hair are the two materials that are most frequently used to make wigs. Every material has distinctive qualities all of its own. The greatest wigs are made of human hair since they are of excellent quality, need little upkeep, and are long-lasting. Nevertheless, despite the fact that human hair wigs are highly expensive, you will get superior cost-performance from them because to their endurance.
Select the appropriate wig cap.
You must pick a wig that perfectly fits you if you want it to seem lovely and natural. You will not only feel uncomfortable if the wig is too loose or too tight, but you will also appear strange, losing the true purpose of wearing a wig. The majority of females wear an average wig cap size. But especially if you're purchasing a wig online, it's advisable to measure your head size before making a purchase.
Choose the length of the wig you like.
As was already noted, wigs have all kinds different lengths. You will find it simpler to select the length that complements your style as a result. What length wig do you want—short, medium, or long? You should take your lifestyle into account while deciding on the right wig length for you. A longer, fuller wig is better for you if you are a model or are interested in fashion. A medium or short thin wig, however, is the ideal option for you if you are active and spend the most of your time working out at the gym.
Be sure of the wig style you choose.
The kind of wig that is best for you should be another consideration while purchasing one. The type of wig you select will affect how you wear it, how it appears on you, and how you care for it. When we discuss wig kinds, we are referring to the way wigs are made. Human hair headband wigs, glueless lace wig, full lace wig, HD lace wigs, and more human hair wig kinds are available. But custom-made wigs are the finest. This wig will make you look more natural than the machine wig. Additionally, they have excellent air permeability and are quite comfortable. The glueless lace wig is great example.
Choose the appropriate color.
There are several wig colors options available. We have highlight honey blonde and orange ginger color wigs, for example. Choosing the proper wig color when wearing a new wig may be difficult. However, it is advisable to select a color that is almost identical to your hair color. You may easily convert to wearing a wig this way. Furthermore, you should examine your skin tone, since certain hues are better suited to you than others.
Taking density into account.
The density of wigs varies as well. The thickness of the wig is referred to as its density. Wig density is measured in percentages, with a range of 60 percent to 200 percent. If you want to appear fuller, select wig density of 150 percent or 180 percent.
Consider the cost.
The price is the next crucial thing you should take into account while shopping for a wig now that you are aware of all its features. Be aware of the cost and your budget before adding a wig to your shopping cart. Wigs typically range in price according on their features. For instance, the cost of human wigs is frequently more expensive than the cost of synthetic wigs. Additionally, longer, denser wigs are typically more expensive. As a result, you should decide on your budget and ascertain how much you can spend before ordering or selecting the wig of your choice.