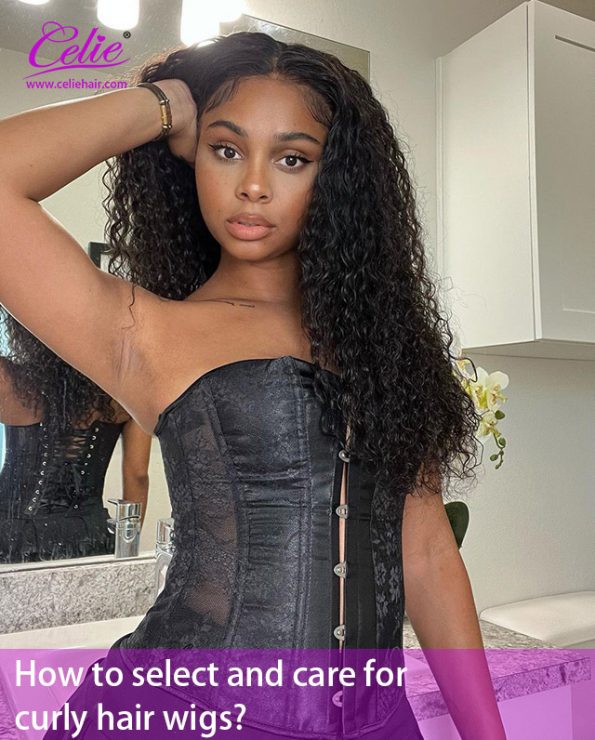 Curly hair has long been popular. There are several curly hair color and length options. The care and maintenance of curly or wavy wigs differs from that of natural hair. Let's look at some care advice for curly hair wigs and what to look for while shopping for curly hair wigs.
How should curly hair wig be chosen?
It's crucial to take your desired appearance, how frequently you'll wear it, and the shape of your face into account when selecting a curly hair wig.
Which hairstyle suits your face the best?
Angular or square face.
Curly hair wig is a fantastic option for those with square or angular faces since it may help soften the face. Full or partial circumference can help to further balance the face, while medium-length forms are particularly attractive in this regard.
Elliptical surface.
If you are fortunate enough to have a round face, the majority of curly styles will also look well on you because of their harmony. To select a stylish wig for you, try both short and long wig.
Round face.
However, a longer hairstyle (below the chin) is often more flattering, because a shorter hairstyle can highlight the range of the face, and if you have a round face, it looks rounder. Look for a style with a shorter layer around the crown to frame the face in order to lengthen and heighten a face.
Heart-shaped face.
Avoid shorter styles if you have a heart-shaped face since they might draw attention to the broader front face. In conclusion, the curly wig is a bit longer to create a balanced structure around the face.
How should you care for curly or wavy hair wig?
We must take care of the curly hair wig from usage to washing to styling in order to maintain its appearance and lengthen its useful life.
Clean wigs regularly.
It is advised to clean your wigs once a week if you wear them frequently. Please take great care while washing the wig to avoid using hot water, which degrades the wig's quality and prevents it from being submerged in water for an extended period of time. It should spontaneously dry in a ventilated area after cleaning.
Apply hair conditioner.
Do not rub the wig with your hands when washing it. Don't pull the wig when you see the knot. You should apply hair conditioner to straighten it softly. Furthermore, the wig with hair conditioner will be as brilliant as the one you just purchased.
Use non-greasy hair care products.
Long time has passed since the wig was last worn. It's still as stunning and black as the day you originally purchased it. As a matter of fact, spritz non-oily maintenance lotion on curly hair or a deep-wave wig multiple times before wearing it every day. The wig may moisturize and restore the scalp's original look in addition to preventing static electricity.
Try not to comb.
Avoid combing the curly hair wig at all possible. Use your hand to carefully care for it. Curly hair will lose its curl when combed. Only slightly loosening the hair knot at first, followed by securing it with a splint, spraying it with wig care solution, and then using your hand. Never smooth your hair with a comb. Use no comb at all if the hair knot is not yet undone. The comb is used following the last application of the care solution, and the hair is nearly damaged initially.
Wig storage.
Normally, remove it and place it on a stand. You can't just toss away your wig while you wear it and remove it every day. Put your wig on the stand or mannequin head, please. Place it in a plastic bag when not in use. Put away your wig or wigs if you don't wear them for a while. Avoiding exposure to the air is recommended. You should distribute the wig in the same location where you previously placed it or leave it in a plastic bag because it is simple to pick up dust or other items.