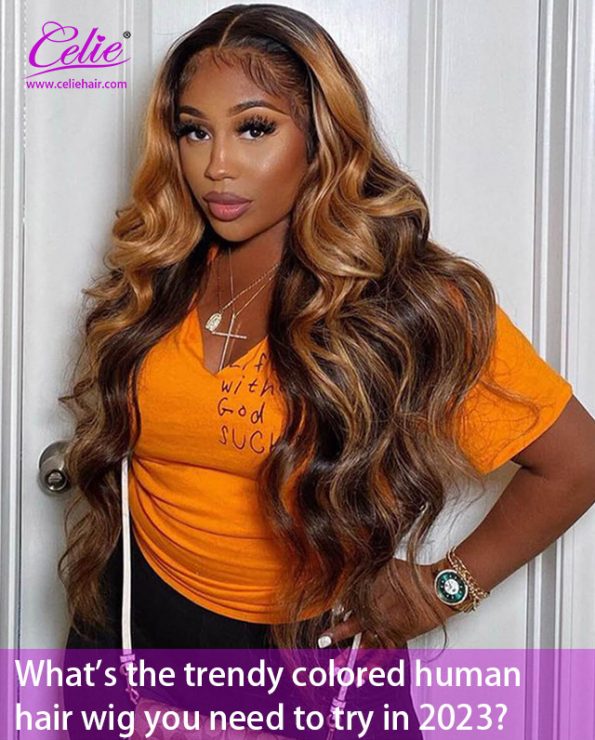 New year, new beginning, do you want to change the appearance of your hair? Changing the color of hair is one of the effective ways to get a new look. Different hair colors can show your personality and fashion beauty. Compared with designing your own natural hair, wearing a color human hair wig is undoubtedly a very natural, safe and quick way. So why choose human hair wigs? What styles of popular colored human hair wigs should you try in 2023? This blog will be your best guide.
Form of content:
What are human hair wigs?
Advantages of human hair wigs?
How to dye human hair wig?
How to make human hair wig silky?
How to care for a human hair wig?
Popular colored human hair wigs recommendations:
FAQs about the human hair wigs:
How much is a human hair wig?
How long does human hair wig last?
What are human hair wigs?
Human hair wigs are the wigs made of human virgin hair in 10A quality. The human virgin hair is without the chemical process. You can wear it for long and the wigs are very nice that you can do more styles of the high quality. You can dye the human hair wigs or curl your human hair wigs etc.
Synthetic hair wigs are often compared with human hair wigs. The price of this wig is lower, but its quality is also worse. All in all, human hair wigs are the best purchase and distribution option. Human hair wigs is far more popular than synthetic hair wigs.
Advantages of human hair wigs?
You can dye, curl and straighten your human hair wigs
You can get natural hair color and touch and get natural hair appearance.
You can get a wig with high durability, which you use for a long time.
Human hair wigs is a low-maintenance wig. You can spend less time and money to maintain human hair wigs.
You can get a very comfortable wearing experience, breathable and comfortable.
There are many kinds of Human hair wigs, and you can get all kinds of human hair wigs as your choice.
How to dye human hair wig?
Choose hair dye and developer
You must choose your favorite high-quality hair dye, and then choose about 20 rolls of developer. You can mix them, the mixing ratio can refer to the instructions of the dyes, and then stir them evenly with a plastic spoon. When you do this step, take care to protect your hands. You can wear a rubber glove.
You can test your mixed dye on several strands of hair that are not easy to gap. If you are sure, you want this color, keep this dye. You can also apply some dye on your hands to make sure your skin won't have an allergic reaction before dyeing your hair.
Divide the wig into parts
You can fix the wig on the wig frame, and then divide the hair of the wig into several parts for later dyeing. You can decide how many parts to divide according to the length and density of your hair. You can fix each part with a hair band.
You can gently apply the dye to your hair by hand or brush. After you have applied one part, you can let it relax, and then apply the next one until all parts are finished.
You need to comb your dyed hair again with a comb to make sure the dyeing is even. This is the key to the uniformity and success of dyeing.
You can leave the fake hair in a cool, dry and clean place for standing and setting. For the standing time, you can refer to your dye instructions. Usually, this time will be about 40 minutes.
You can wash the wig with shampoo that has a protective effect on color, and then let the wig air dry naturally.
Apply essence and conditioner.
You can apply some essence and conditioner on your wig to maintain your wig, make your colored wig shinier and more hydrated, and give you the most charming and natural appearance.
How to make human hair wig silky?
If you want to get a smooth appearance of human hair, you need to pay attention to the care and maintenance of wigs in your daily life. Only good care can keep your human hair wigs in good condition and make your hair look natural and smooth. Below we will share some tips for maintaining wigs, hoping to help you.
How to care for a human hair wig?
Sulfate-free shampoo
You should use sulfate-free shampoo to clean your human hair wigs. Sulfate is irritating and can dry your hair.
When you wash your hair, you should pay attention to the water quality. It is best to use soft water, otherwise hard water will accumulate some iron and magnesium compounds in your hair, which will harm your hair.
Reduce heat setting times
When you usually use a wig, be careful not to heat your wig too much. Every heat setting is harmful to wig hair.
When you sleep at night, you can wear a silk hair cap to wrap your wig, which is a very effective way to protect your wig.
You should have in-depth care for your wig once a week, and you can go to a beauty salon once to have a professional care for your wig.
Popular colored human hair wigs recommendations:
FAQs about the human hair wigs:
How much is a human hair wig?
As the wig making technology is getting better and more efficient, the price of human hair wigs is also decreasing. Human hair wigs are not very expensive. Moreover, when you buy online, you can meet various promotions, and you can use various coupons to make purchases. Human hair wigs are not a wig out of reach. Different hair lengths also have different prices. If your budget is tight, you can choose the short human hair wigs.
How long does human hair wig last?
Human hair wigs have very good quality and durability, and its maintenance is simple, so you can save a lot of maintenance time and expenses. And if you take care of your human hair wigs, you can use human hair wigs for at least one and a half years.
Final thoughts
All wigs in Celie Hair are 100% virgin human hair in 10A grade. You can get the natural and attractive hair look by various hair styles and colors. They are many coupon codes for your choices. Welcome for your orders.