Nowadays More and more people would like to choose human hair wig. Due to the wigs is easy to installed and feel more conformable. However there are lots of wigs in the market. Such like closure wig, lace front wig, 360 lace frontal wig and full lace wig and so on. When we decide to buy one wig, we will be confused the lace front wig and full lace wig. what's the differences between Lace Front wig and full lace wig? You will find the answer in this article.
What is the lace front wig?
Lace front human hair wigs are named the lace is located in the part of the forehead of the wig which just like the hair grow from your own scalp. It's looks natural and extremely perfect as it will show a hairline in the front. The lace spread ear to ear and it have the combs in the front and back to secure the lace. It usually need to put the elastic band in the wig to secure the wig avoid fall out.
What is the full lace front wig?
Full Lace Wig is are name the lace is covered a full head and the 100% human hair is knotted into this by hand. Usually we suggest you wear a wig cap when you wear a full lace wig. You can got the hairline around your whole head.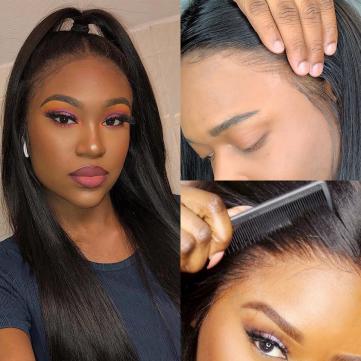 Lace Front Wigs VS Full Lace Wig
The position of Lace
Lace front wig lace is spread ear to ear, full lace wig has the lace around your head
versatility
Lace front wig you can part the lace area in front. Full lace front it will be versatility, you can part any way what you like.
Price
As we all know the full lace wig it will be more expensive that lace front wig. Full lace wig it will be more durable and last longer.
After you reading this article, I think you must got some knowage about the lace front wig and full lace wig. Both of them has the pros and cons. Which one you want to buy that will be up to you. Why not re-flash your new hairstyle and got new human hair wig? It absolutely bring a new look for you.