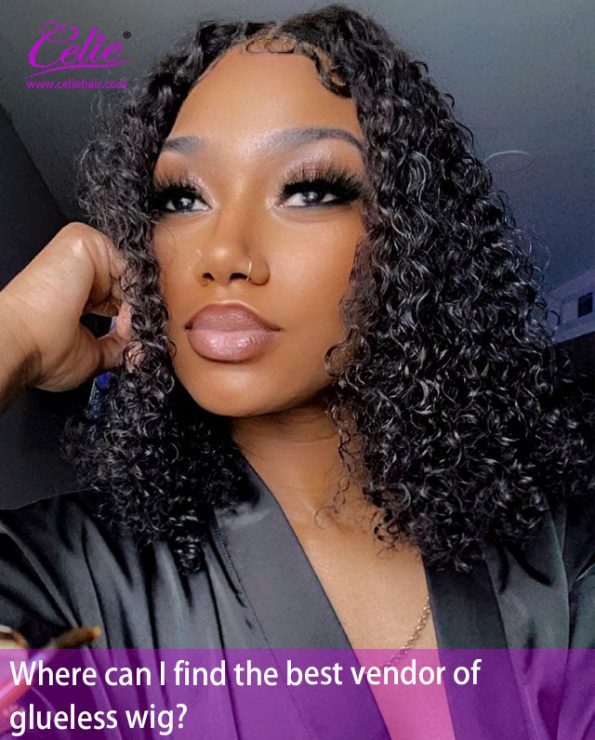 The variety of wig styles available now is mind-boggling. This is a significant obstacle and problem for wig newbies. There is no need to worry about it because you don't know much about wigs and can't make a better judgment on the decision. Start with the simplest wig for wig novices to better grasp different wig varieties. This is the best method to handle the wig choosing dilemma. As they are the simplest wigs to use, glueless wigs are the best option for novices. Today this article will mainly talk about the basic knowledge about glueless wig and where can find the best vendor of glueless wig.
A glueless wig: what is it?
It is quite obvious from the name "glueless" that this style of wig does not require glue, gel, or other adhesives to be used. The glueless wig typically includes combs, straps, clips, or other attachments that you may use to hold it in place without using glue or gel. Because there is no longer any adhesive involved, glueless wigs are ideal for wig novices. Given how easy it is to put on and take off the wig, some could refer to it as a Wear and Go Wig.
How do glueless wigs function?
In order to keep the wig in place without the use of tapes or sticky glue, gluless wigs employ a number of characteristics. Among the most typical characteristics are:
Adjustable straps.
There are often adjustable straps on glueless wigs that you may use to change the wig's fit as necessary. This makes it easier to maintain the wig's stability throughout the day.
Combs.
You may attach certain glueless wigs to your hair using combs that are incorporated into the wig's construction. These combs are often attached to the wig's front, back, and sides, giving it a firm grip that maintains it in place.
Unique materials.
Certain glueless wigs are created with unique materials that better hold the hair, without the need for tapes or adhesives to keep the wig in place. For instance, some glueless wigs are constructed from a material that is somewhat rougher than typical wig materials in order to better grasp the hair.
The most typical glueless wig cap design is:
These are some of the most popular styles of glueless wigs available on the hair market, after having a general understanding of what they are. Also, we will offer each of them a thorough and in-depth introduction to the making of glueless wig caps.
A headband wig fixes the wig in place and gives it a natural appearance using an elastic headband, unlike a lace wig, which has a lace closure or frontal around the hairline. Four combs assist hold the wig in place at the sides and back.
Moreover, a U-part wig employs combs placed within the wig cap rather than glue or gel for installation. Also, the wig's central section is vacant, allowing you to leave out your own hair to mix in with the wigs and give yourself a more natural appearance.
3. V part wig.
Someone can refer to a V-part wig as an improvement to a U-part wig. The V part wig is quite comparable to the U part wig, except it features hand-tied lace and less room in the centre. This implies that you are able to style your natural hair completely protectively without leave-out. To hold the V-part wig in place, combs at the sides and clips in the centre are used.
For a natural appearance, traditional lace wigs require adhesives to secure the wig to the wearer's head. Glue application, however, can burn the margins and harm the skin at the forehead, leading to hair loss, itching skin, etc. Yet, thanks to a newly created glueless lace wig, you can even wear one without using glue. The glueless lace wig often includes combs and elastic straps to assist secure it to the head, and you may lay the lace using hairspray rather than using glue to hold the wig in place. So, for those new to wearing lace wigs, glueless lace wigs are the finest option.
Advantages of glueless wigs:
Several people wear glueless wigs, which might be attributed to the following factors.
I. The natural appearance.
A natural appearance and feel are produced by glueless wigs since they don't require the use of tape or tacky glue. As glueless wigs don't have any unsightly tape or adhesive lines, your hair looks and feels natural. For people who want to modify their hairdo but don't want to attract attention to the fact that they are wearing a wig, they are a fantastic solution.
II. Many different styles are available.
The fashions of glueless wigs are as varied as those of other wig kinds. There is a wide selection to pick from, whether it be in terms of colour, density, style, or other factors. You may simply produce a natural and lovely appearance with any mix.
III. Reasonably priced.
If you want a wig you can wear for a lengthy amount of time, glueless wigs are more affordable than regular wigs. You'll spend less money on tape and sticky glue and won't need to visit the hairdresser as frequently if you choose a glueless wig.
IV. Safety is one thing that you should not worry about when you wearing a glueless wig.
Because they don't employ tape or sticky glue, which can harm the scalp, gluless wigs are safe. Because there is no chance of skin irritation or allergic reactions with glueless wigs, they are a fantastic alternative for people with sensitive skin.
V. Hair care.
Glueless wigs allow for daily removal for routine hair maintenance and care. It has even been demonstrated that they promote hair growth.
VI. Simple upkeep.
Glueless wigs require no adhesive, making upkeep simple. The wig is easier to wash and style, and sticky buildup doesn't need to be removed manually.
VII. Natural hair is not harmed.
Some wigs that need to be attached with tape or sticky glue run the danger of harming your natural hair when you take them off. Your hair and delicate margins are easily accessible to the adhesive, which can harm your follicles and cause damage to your hair. With glueless wigs, your natural hair is kept strong and maintained even when you wear it every day.
VIII. Easy to use and quick.
It takes relatively little time to put on or take off a glueless wig. A glueless wig is the ideal option for you if you are a busy office worker or a mother of young children. It's obvious that you don't need to spend a lot of time putting it on or taking it off; all you need to do is use a nice comb or adjust the strap.
IX. To protect the scalp, adhesive is not required.
The primary benefit and characteristic of glueless wigs is that they do not require glue or adhesives, which only serves to prevent the issue of traction hair loss brought on by glue bonding. You should be aware that glueing it on and removing it afterwards will seriously harm the scalp. Obviously, the hairline will become harmful if you use it excessively.
How should a glueless wig be worn?
Without having to deal with the trouble of glue or tape, wearing a glueless wig may be a practical and simple method to change up your appearance. An instruction manual for donning a glueless wig is provided below:
1) Get ready for hair.
Be care to wash and style your hair prior to donning the wig. This will make sure that it is flat and smooth, which will make it simpler to hold the wig in place. To avoid tangling, it is advised that long hair be wrapped or tucked beneath a wig cap.
2) Fix the wig cap.
Make sure the wig cap is tight and comfortable on your head before placing it there. Your hair won't fall out from under the wig thanks to the wig cap's ability to hold it in place.
3) Elastic band adjust it.
A movable elastic band that can be tightened or loosened to match your head size is included on the majority of glueless wigs. In order to provide the most comfort, make sure the band is snug but not too tight.
4) Wear the wig.
Make sure the wig is level and centred on your head by carefully placing it there. The front of the wig should cover your forehead just a little bit when you adjust it so that it rests securely on your head.
5) Fasten the clips.
There are clips that can be used to hold some glueless wigs in place. Just fasten the clips at the wig's base, making sure they are stable and do not obstruct the elastic band.
6) Wig styling.
You may style the wig anyway you like after securing it. To remove any knots, use a brush or comb gently. Next, style the wig as you would your own hair.
7) The last check.
Do one last check to ensure that your wig is stable, even, and comfy. Using hair clips or bobby pins, you could also want to tuck in any stray hairs.
It's crucial to pick a wig that is constructed of high-quality materials that adequately matches your head shape and size. You may wear a glueless wig with confidence and ease if you keep these instructions in mind!
How do I maintain my glueless wig?
To make sure that your glueless wig lasts as long as possible and looks its best, proper maintenance is required. Here are some pointers on how to maintain your glueless wig:
Regularly brush or comb the wig to maintain it sleek and tangle-free.
While not in use, keep the wig on a wig stand to preserve its form. Utilize the strong box the glueless wig arrived in or a wig stand.
High heat or a lot of moisture can harm the wig's hair, so avoid doing either.
Follow the manufacturer's recommendations while cleaning the wig. This will assist in removing any oil or dirt buildup that might harm the wig.
What vendor has the greatest glueless wigs?
We certainly believe Celie Hair is the best place to start if you're ready to go further into the realm of glueless wigs. "Keep in mind that with real human hair wigs, the wig quality is a certainty from the start. So with that established, have fun, jump out the box and go with a style to bring out that inner Beyonce!" At here, you can find several extra premium wigs as well as glueless wigs.