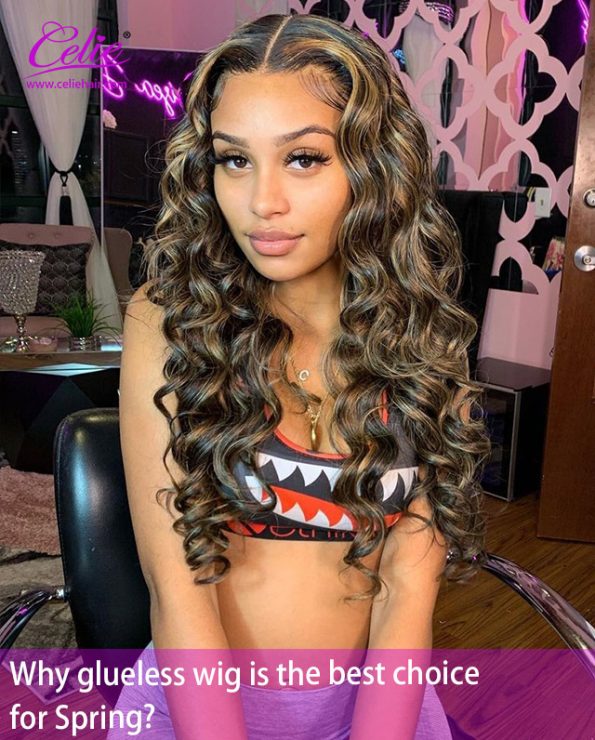 As the spring season arrives, it brings with it a wave of change, a new beginning, and a fresh start. People tend to embrace the change in their daily routine, lifestyle, and fashion. It is also the perfect time to experiment with different hairstyles and hair accessories to bring a fresh look to your appearance. One of the most popular trends that have emerged in recent years is the use of wigs, and for the spring season, a glueless wig is the best choice. In this article, we will discuss why glueless wigs are the perfect hair accessory for the spring season.
The majority of people who wear wigs should feel as natural as possible while wearing them. Although they significantly improve how closely your wig resembles real hair, glue and adhesives are not absolutely necessary. Using merely a wig comb and a set of adjustable straps, glueless wigs accomplish the same task (preinstalled on the wig).
These are some of the greatest choices if you're seeking for a glueless wig for spring.
Why is the glueless wig so popular?
We must first understand why glueless wigs are so popular. For girls who are not skilled, wearing traditional wigs requires the use of glue or stitches, making it a very challenging process. Wig manufacturers have responded to these consumer concerns by creating a variety of lace wigs and some new U/V part wigs, which do not require glue or stitches to be installed. In addition to greatly reducing the time and expense involved with wearing wigs, such glueless wigs also raise the appeal of glueless wigs among wig users. Most significantly, a glueless wig may effectively stop the harm that glue does to the girls' natural hair and safeguard their hairline. With these two explanations, you should also be able to comprehend why glueless wigs are so popular.
You should get a glueless wig for these reasons.
Both comfortable and fashionable, glueless human hair wigs are available. You should consider a glueless wig.
A glueless wig is the ideal option for the reasons listed below:
– Wearing them is quite cozy.
– Both are realistic and appear natural.
– Wearing and taking off these it is simple.
– Compared to other wig varieties, they are more affordable.
– Anybody looking to enhance their appearance without breaking the bank can choose a glueless lace wig. So if you're shopping for a wig, think about a glueless wig.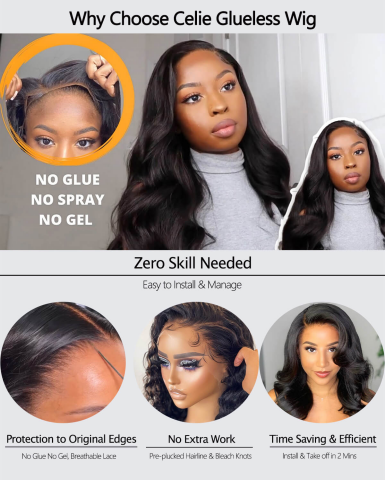 How are glueless wigs advantageous?
Firstly, glueless wigs are a great option for those who are new to wearing wigs or have sensitive skin. As the name suggests, glueless wigs do not require any adhesive or glue to secure the wig onto your scalp. Instead, they come with adjustable straps and combs that can be adjusted to fit your head perfectly, providing a secure and comfortable fit. This makes them a great option for people who are prone to allergic reactions or have sensitive skin as they do not have to worry about any harmful chemicals or adhesives touching their skin.
Secondly, glueless wigs are incredibly versatile and can be styled in various ways to suit different occasions and events. With the arrival of the spring season, there are many events and occasions to look forward to such as weddings, proms, and graduations. Glueless wigs come in various styles, lengths, and colors, making it easy to find the perfect one for any occasion. They can be styled into ponytails, braids, or any other hairstyle of your choice, providing endless styling possibilities.
Thirdly, glueless wigs are perfect for the spring season as they are lightweight and breathable, making them comfortable to wear even in warm weather. As the temperature rises during the spring season, it can be challenging to wear heavy and bulky wigs that can make you feel uncomfortable and suffocated. Glueless wigs are made from lightweight materials that allow your scalp to breathe, preventing any discomfort or irritation.
Fourthly, glueless wigs are easy to maintain and require minimal effort to style. Unlike traditional wigs that require frequent washing, conditioning, and styling, glueless wigs are low maintenance and can be styled easily without any professional help. This is especially important during the spring season when people tend to spend more time outdoors, and there is less time to spend on styling and maintenance.
Fifthly, glueless wigs are a cost-effective solution for those who want to experiment with different hairstyles without damaging their natural hair. They are a great alternative to traditional wigs that require expensive adhesives, and frequent maintenance costs. Glueless wigs are affordable and provide a cost-effective way to try out new hairstyles without worrying about damaging your natural hair.
What info is important to have before purchasing a glueless wig?
We have you covered if you're a first-time wig purchase. When making a purchase, there are a few things you should be aware of. Get the right size, he advises, as it is the one thing you must do. You only need to use a measuring tape to take an accurate head measurement to determine your size. If your head circumference is between 21 and 24 inches, you should choose between a small, medium, or large cap. It only takes a few measurements to get the correct size, then you can choose the desired style, colour, and length. Wigs aren't exactly the most cost-effective option to style your hair, which is something else you might want to keep in mind. Even if there are less expensive solutions, they will still set you back a few hundred dollars.
How can you choose the greatest glueless lace wig decision for yourself?
It might be challenging to select the ideal wig, particularly if you're unsure of what style would look best on you.
A glueless wig can be the best option if you want a wig that is simple to wear and take off. Wigs made of glued-down lace do not need adhesive to hold them in place. They are frequently fashioned of a light, breathable lace that aids in producing a hairline that seems natural.
The thickness and density of the wig, the hair's texture, the size of the wig cap, and the colour of the wig should all be taken into account while selecting a glueless wig.
Think over the wig's styling and if you'll wear it frequently or only on special occasions.
How should I care for my glueless wig?
Because of its adaptability and natural appearance, glueless wigs have been more and more popular among women in recent years.
You may be interested in learning how to care for a glueless wig if you're considering purchasing one.
To take care of your glueless wig, remember to:
– Gently brush the wig with a soft-bristled brush, taking care not to tug or pull the hair.
– To avoid tangling the hair, carefully wash the wig with shampoo and conditioner while simply using your fingers.
– Use the low heat setting on your blow dryer or let your wig air dry.
– While not being worn, keep the wig in a cool, dry location.
Do glueless wigs readily fall off?
One of the most often asked questions about glueless wigs is this one. Glueless wigs are frequently thought to be more likely to fall out due to the lack of glue used in their installation. That is not the circumstance. Wig grips hold these wigs in place, and you can make them more comfortable on your head by adjusting the velcro straps in the back.
Moreover, combs on the sides make the hair's connection safe and secure. You want to make sure your wig doesn't fall off and make you seem stupid when you're moving around. A glueless wig will thankfully give you the security you want. As a result, you won't have to worry about your glueless wig coming undone.
Remember that glueless wigs are made of many different materials, including lace, mono silk, etc., just like curly lace front wigs. Because of this, the supplies needed to make glueless wigs are essentially the same as those needed to construct other kinds of wigs. The only difference is in how it is installed. These can be worn without adhesive, in contrast to the majority of wigs. Headband wigs, V-part wigs, U-part wigs, and other styles of glueless wigs are some of the most popular types.
Where can I buy best glueless wig for spring?
These days, there are many various types of hair extensions accessible. A glueless wig can be a fantastic option if you're looking for a wig that looks natural and doesn't require any glue.
You are guaranteed to discover a glueless wig that meets your demands because they are available in a wide range of colours and designs.
A glueless wig can be purchased, but where? Lace wigs are available from numerous online retailers, but not all of them are the same. You should look for a shop that sells affordable, high-quality human hair wigs. One such store is Celie Hair. At incomparable costs, they provide a wide variety of glueless wigs, U part wigs, V part wigs, short bob wigs and headband wigs. Please feel free to look at our selection of glueless wigs!
Summary up.
In conclusion, glueless wigs are the perfect hair accessory for the spring season due to their versatility, comfort, low maintenance, and affordability. They are a great option for people who are new to wearing wigs or have sensitive skin, and can be styled easily to suit any occasion. With the arrival of the spring season, it is the perfect time to experiment with different hairstyles, and a glueless wig is the perfect accessory to help you achieve a fresh and new look.